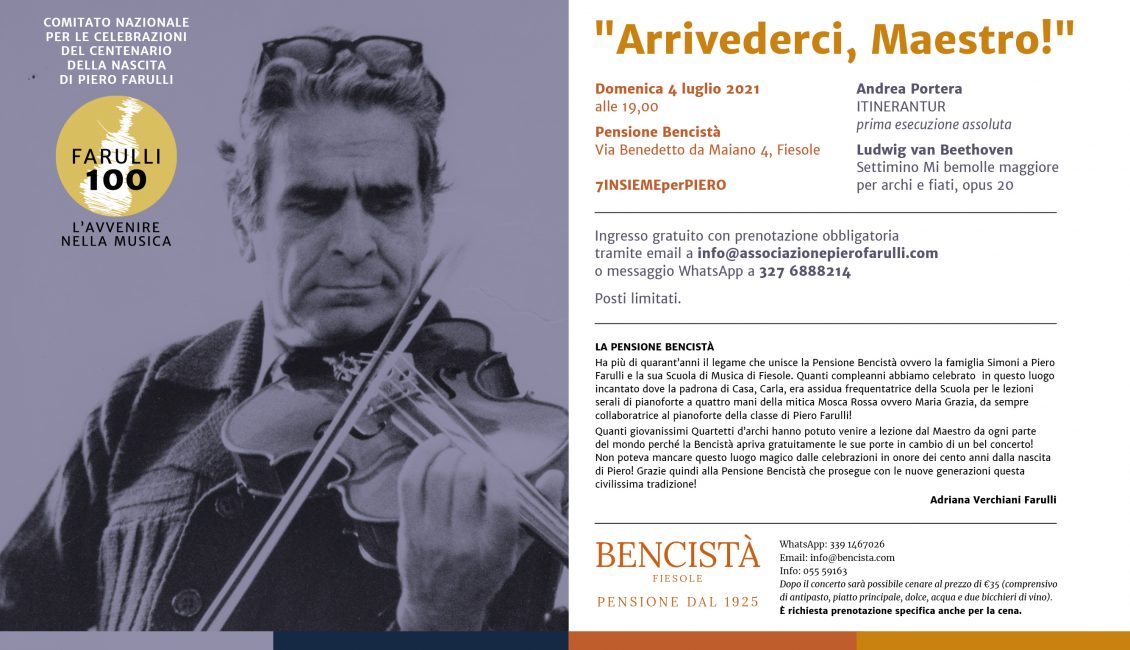 "Itinerantur" is a piece in the making, today presented in its initial section.
The listener will then be able to listen to music that is still being born with totally unexpected possibilities.
The title itself, "journey", becomes an emblem of the journey that life requires to reach an understanding of oneself: a desired journey or a painful departure, an unexpected path or a path planned against the unexpected … whatever our way may be, the journey is something we cannot avoid, because "living", on balance, is synonymous with "traveling". Here it becomes spontaneous, as much as necessary, to connect to the inspiring figure of Piero, Maestro Piero Farulli, who in his important journey has incorporated the path of many other people, offering us a unique guide to best fulfill our "living-traveling". This passage is dedicated to the Master with an outburst of infinite joy and respect, with immense gratitude as well as my constant fear of not being up to what He is offering me. Itinerantur is the thought I address to Piero looking at the walls of the Fiesole Music School, my home for 26 years: In this architecture immersed in the hills with dreamlike sunsets and in the silence of panic nature, I feel the footsteps of thousands flow like the sea of young people, through that stretch of road that Piero built as a bridge between the spirit of the great Western musical culture and society. And this is an illuminated path! In our wandering in search of ourselves it has represented and represents a beacon for generations of musicians who are truly making the world a better place. Piero Farulli was all this and wonderfully will continue to be until we who have crossed his path will dialogue with the world through knowledge and musical emotion as he taught us, at the maximum of our intensity.
For this reason Itinerantur, just as Piero would like, is aimed at all those who are immigrating, between pain and hope, between sloth and commitment, between land and land.
Andrea Portera